Topgallant® Architecture
The software architecture of Topgallant® has been designed to support operation of applications and information management for complex engineering tasks as they are often applied for one-of-a-kind and made-to-order products for the maritime industry.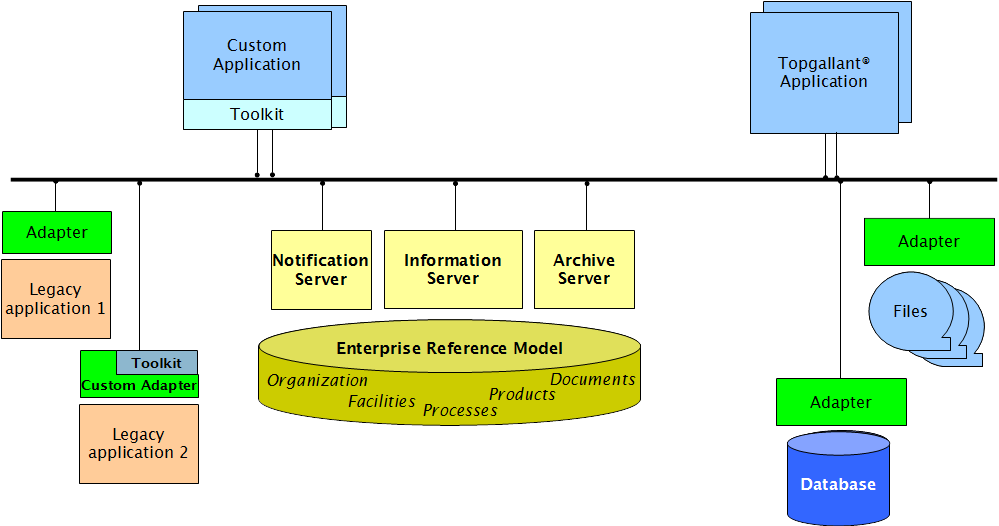 Topgallant® components implementing this architecture include:
Information Server ­ provides distributed information management and multiple data views
Enterprise Reference Model - a ready-to-use data model repository provided to cover the data management needs of maritime applications
Archive Server - provides long-term storage services for bulk data
Notification Server - provides a gateway from Information Server to other message handling systems
Adapters ­ retrieve and receive data from different applications
Software applications supporting specific solutions
Enterprise Reference Model (ERM)
The goal for this model is to enable maritime industry entities to manage the full scope of information created and managed in their operations more effectively and economically and to provide a computing environment that supports and enhances co-operation of partners in the context of projects.
This data model repository contains all types of information found to be necessary or useful to support the enterprise operations for martime business applications. It covers a wide scope of data that is created or used into an IT environment in this domain. It allows applications and adapters operate on a powerful database and to interact easily.
By having such a model, enterprise integration can be achieved. Individual applications contribute to the total model with certain coverage.
The scope of the model covers:
Organisation and Facilities
Information about enterprise organisaton, facilities, resources, capacities and supplies.
Projects and Products
Information covering projects and resulting products over the whole life-cycle.
Processes
Information about processes, work flows and schedules.
Analysis
Information about rule systems, configurations and analysis data (scenaris, cases and results)
Documents and Media
References to any externally provided documents and media of any kind related to other information in the model.