Topgallant® Solution | Plate Production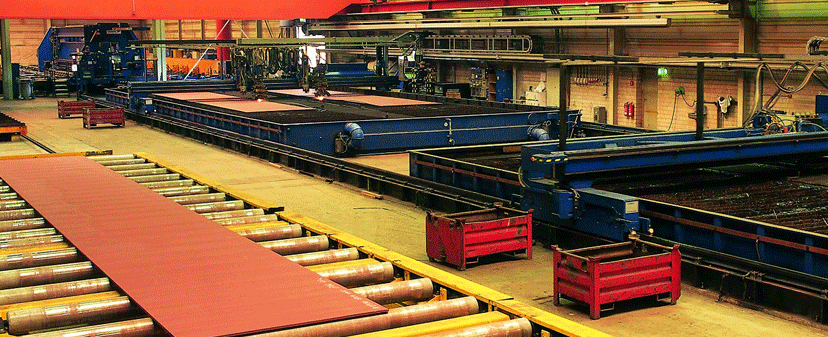 Topgallant Solution Plate Production is a business solution to support the seamless automated work flow from CAD/CAM systems to Enterprise Resource Planning (ERP) systems and/or CAM systems for plate part production operations at shipyards.

The solution connects and automates the production preparation processes in this domain. It covers the main tasks that are commonly required to process the part design information to production. This includes:
CAD data extraction for plate parts,
Part marking verifikation and automated editing,
Automatic grouping and sorting of parts into nesting batches based on various selection and filter criteria using confgurable rules,
Raw material assignment based on assignment rules, including early material estimation by use of pre-nesting,
Execution of automatic nesting, including NC data generation and post-processing and burning sketch drawings, report generation and any other production data,
Review, approval, packaging and release of production data sets,
Transfer to ERP, MRP and/or PPS systems.
Plate Production helps to manage design changes ensuring the all previously released information is updated.
The solution is based on the integration technology developed by Atlantec Enterprise Solutions, which provides some essential capabilities such as version controlled data integration and which is fully process-oriented.
This solution includes the following key components:
Topgallant® Plate Production application
Topgallant® Nesting Adapter
Topgallant® Marking Checker
CAD/CAM publishing adapter(s) such as the Topgallant® Aveva Marine Hull Publisher or the Topgallant® Tribon M3 Hull Publisher.
Topgallant® Information Server
Topgallant® Plate Production Application
This application provides an easy-to-use plate nesting management interface, which supports the automated selection of plate parts released for production.

Parts can be grouped by various rules according to material properties, symmetry, size and any many other properties including production planning data. Concurrently raw material will be selected accordingly from available raw material stocks.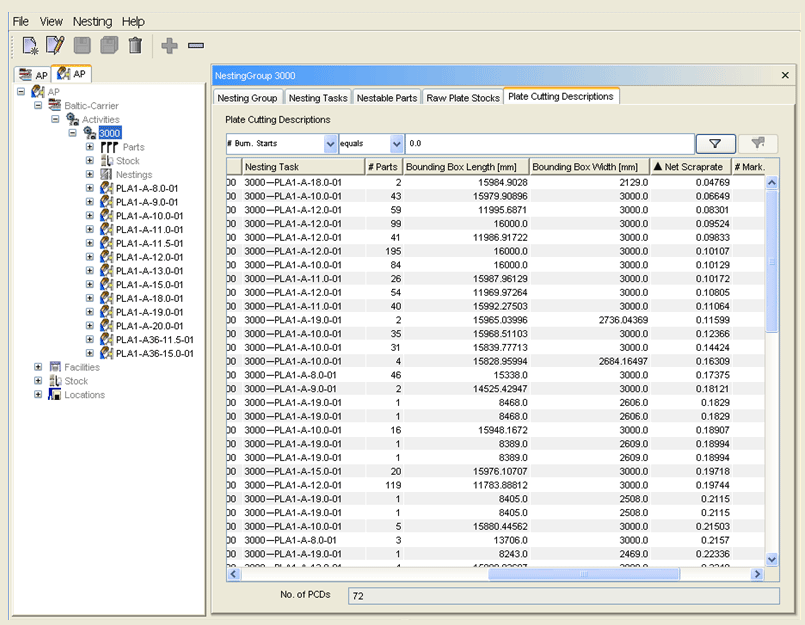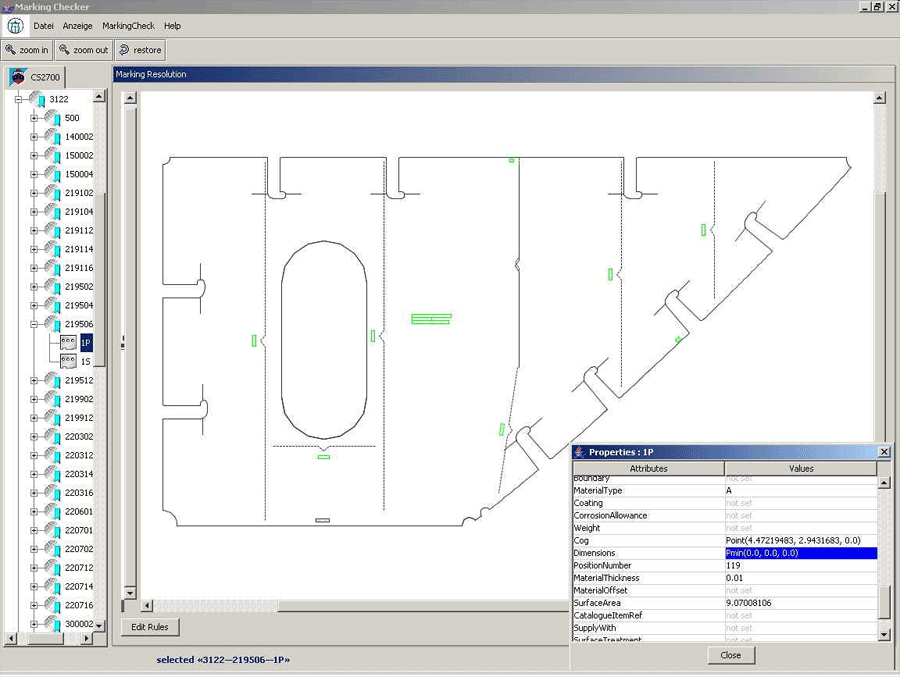 From this selection process nesting groups and nesting tasks will be created and submitted to the configured automatic nesting (sub-)system. This is accomplished via the Nesting Adapter which will execute nesting jobs via a collection of job queues.

The Plate Production application will work in close connection with the Nesting Adapter, provding information about progress and status of currently executing nesting jobs.

Once nesting jobs are completed, results may be reviewed and/or released for production, e.g. by submitting them to a connected ERP system.
Topgallant® Marking Checker
This component can be used at different steps in the processing chain, such as during the CAD data import. It uses a user-configurable collection of rule sets defining the checking criteria and conflict resolution methods to produce correct markings on parts. In this context, also compatibility with the capabilies of the target production equipment can be ensured.
It can also be used to attach or place additional markings for parts, which are not available from the delivering CAD or CAM system.
This component is designed to operate automatically, without any manual intervention.
An interactive configuration tool is provided to allow creation and testing of rule sets.
Topgallant® Nesting Adapter
The Nesting Adapter is the engine backbone of the solution. It executes nesting jobs on the configured automatic nesting application such as act/cut. It monitors job progress and retrieves nesting results, and any production data generated along with it. The current job state is available instantly to Plate Production.
Topgallant® Information Server
This is a lightweight multi-user data management component that implements Atlantec-es' Enterprise Reference Model (ERM) for Shipbuilding, offering a large collection of engineering and organization business objects.

It supports complex data transformation tasks and process control requirements through a rich set of features like versioning, dependency analysis, and event tracking. It is also capable of handling the large amounts of data typically found in shipbuilding environments.

Topgallant Information Server supports a variety of common platforms. It is easy to set up and maintain using the included administration tool.
CAD/CAM Adapters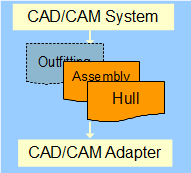 One of the unique features of Topgallant solutions is their ability to connect to 3rd party systems as data sources and data sinks.
Topgallant® CAD/CAM data adapters extract ("publish") information from design systems as necessary for the planning and administration of parts manufacturing, such as design and assembly structure, parts, and material data.
Further data extraction options such as Outfitting data can be provided for customized operation.

Depending on the specific information requirements and target system, the adapters utilize a number of 3rd-party system components and interfaces which will require appropriate licenses.

Once a block, assembly, or individual part has been identified for transfer, the adapter can monitor and request new transfers of part information whenever subsequent design changes occur.


Option Topgallant® Effectivity
By including the Effectivity option, the solution will provide powerful capabilities to support series of similar ships (such as sister ships) with minimal effort. The system will keep track of design, part, or material versions applicable to a specific build no. Changes can be selectively applied to individual ships or groups of ships within the series or propagated from a baseline to successor builds.
Option Topgallant® ERP Adapter
The Topgallant® ERP Adapter provides connectivity to ERP systems based on work orders, assembly, structure, parts, or material information to and from the target ERP system and may also export ERP generated information to the Topgallant® solution. The content and format of information transferred is customizable and is part of the solution implementation. The adapters support various modes of operation such as on-demand, event-driven, scheduled batch. There is strong support for process oriented execution of exchange transactions with the ERP target system.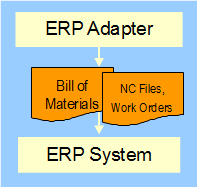 Connectivity can be established in different ways from simple file-based mechanisms to Web Services. This is highly configurable and customizable.

The connector is currently used with platforms like SAP or Projector using system-specific customization layers. Support for other ERP systems can be provided on request.
__

SAP is a registered trademark of SAP SE.
Alma, act/cut are registered trademarks of Alma
Projector is a registered trademark of WM-Data AB