Topgallant® Digital Twinning
A Digital Twin represents a virtual model of a physical asset or service for a certain life cycle stage(s) and use case and allows to avoid expensive physical tests and derive opportunities to be applied to the physical world (e.g. with respect to energy efficiency, routing, predictive maintenance, new designs and retrofits).

Lean and flexible Topgallant® solutions allow to create Digital Twins related to ships (e.g. Digital Product Twin, Digital Manufacturing Twin, Digital Service Twin), but also Digital Twins for production systems and entire shipyards (Digital Shipyard Twin).

To ensure the Digital Thread facilitating a root cause analysis through forward and backward data connection along the life cycle stages, appropriate IT systems and Digital Twins the Topgallant® solutions provide following features:
the Adapter Technology helps to fundamentally simplify integration of 3rd-party software, data sources or data sinks and allows to connect and rapidly retrieve from or exchange data with different applications such as CAD, CAM, ERP, PPS, MES and production support systems
web-based communication using REST based APIs allows cross-company secured data exchange
apart from scalable multi-user operation, noteworthy features going well beyond standard data management systems are version management and event logging ensuring the traceability (e.g. design related data can be versioned which helps both in evaluation of alternative solutions and is bridging the gap to commonly used CAD systems lacking this capability). Thus, it becomes possible to answer the questions who, when and what has been changed and how this differs from previous versions.
a holistic Maritime Enterprise Reference Model, covering many aspects of the industry requirements helping to initiate various Digital Twins and avoid data overlaps at the same time especially in case of cross-company usage across several life cycle stages of a vessel. It is based on ISO and other industry standards such as: ISO 10303-2XX, ISO 15384, WfMC, X.5XX. It incorporates hundreds of different business object types including product data (e.g. vessel), production environment (e.g. shipyard) as well as tasks, supplies and organizational aspects and can be easily further extended to cover new demands.
Topgallant® data analytics functions including data mining and fusion techniques allow to manage the so called Digital Shadow representing sensor data related to real-time status, working condition, or position coming from a ship during the operation or from shipyards facilities during the production or conversion of a vessel.
Topgallant® Architecture
The Topgallant® software architecture has been designed to support operation of applications and information management for complex engineering, planning and project management tasks as they are often applied for one-of-a-kind and made-to-order products for the maritime industry.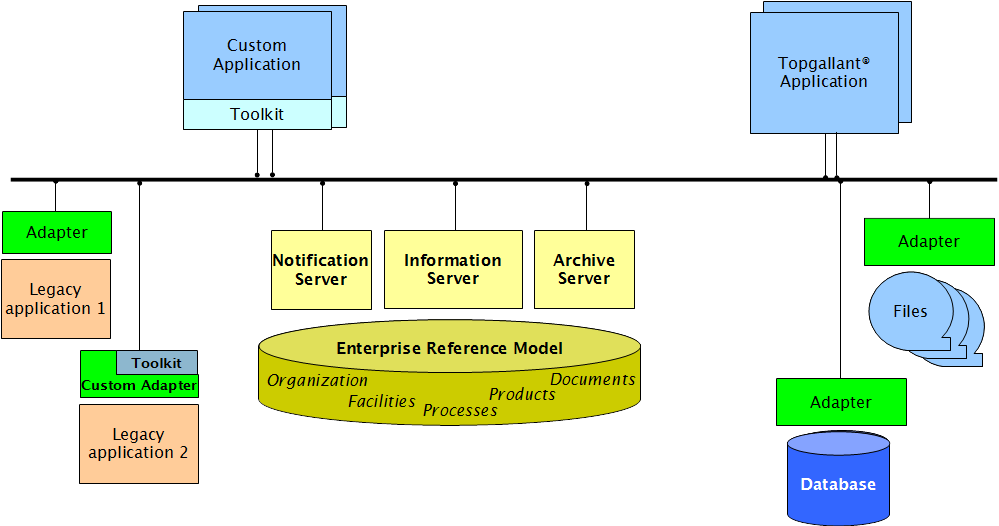 Topgallant® components implementing this architecture include:
Information Server ­ provides distributed information management and multiple data views
Enterprise Reference Model - a ready-to-use data model repository provided to cover the data management needs of maritime applications
Archive Server - provides long-term storage services for bulk data
Notification Server - provides a gateway from Information Server to other message handling systems
Adapters ­ retrieve and receive data from different applications
Software applications supporting specific solutions
Enterprise Reference Model (ERM)
This model enables maritime industry entities to manage the full scope of information created and managed in their operations more effectively and economically throughout the life cycle of vessels and facilities and to provide a computing environment that supports and enhances co-operation of partners in the context of projects.
This data model repository contains all types of information found to be necessary or useful to support the enterprise operations for maritime business applications. It covers a wide scope of data covering technical and operational aspects of vessels and shipyards that are created or used in an IT environment in this domain. It allows applications and adapters operate on a powerful information storage and to interact easily.
By having such a model, enterprise integration can be achieved. Individual applications contribute to the total model with certain coverage.
The scope of the model covers:
Organisation and Facilities
Information about enterprise organisation, facilities, resources, capacities and supplies for shipyards and ship operators.
Projects and Products
Information covering projects and resulting products/vessels over the whole life-cycle.
Processes, Events and Timelines
Information about processes, work flows and schedules and their state of execution.
Analysis
Information about rule systems, configurations and analysis data (scenarios, cases and results).
Documents and Media
References to any externally provided documents and media of any kind related to other information in the model.
Economics
Information about revenues, costs and profits.