Shipyard Production Simulation
Working with customers, leveraging our combined expertise in shipbuilding, interoperability, and production engineering has lead to the development of our shipyard production simulation tool suite. This solution represents a major step forward for shipyards interested in applying simulation technology in project and production planing and control. It minimizes shipyard and ship modeling that is required for production simulation.

The breakthrough in modeling enables shipyards to use simulation on a routine basis. Routine use will dramatically reduce risks; improve planning fidelity and lower costs.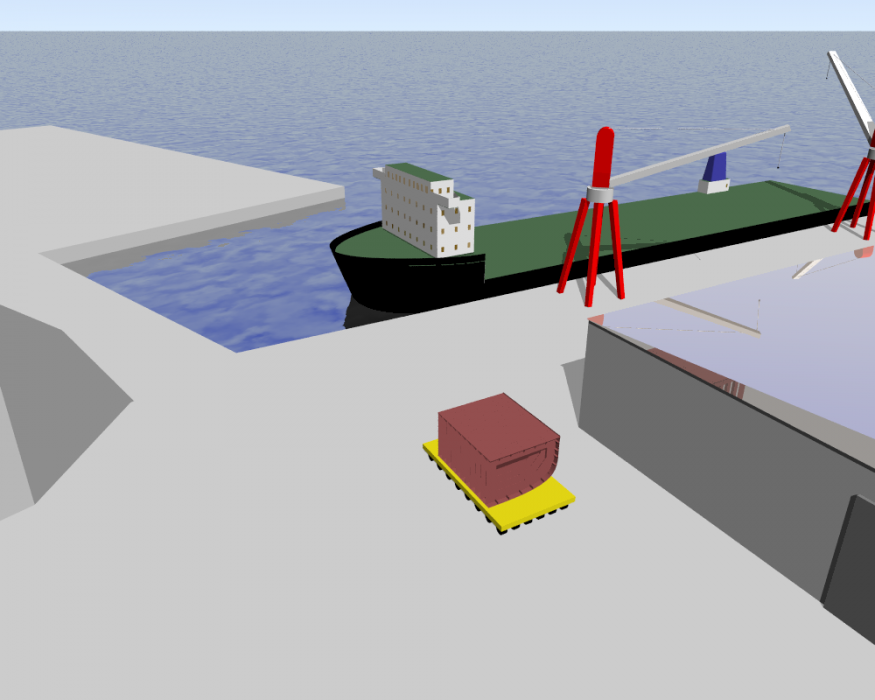 Shipbuilding is a complex, project-oriented manufacturing process, involving millions of parts and countless activities conducted in parallel. New ship projects often employ new technologies, and production runs are normally limited.
Low production rates, high levels of complexity and continous modifications of the ship type portfolio make it difficult for shipyards to take advantage of the experience curves to refine their processes and practices and to maintain acquired knowledge at a high level. This also inhibits controlling and reducing risks and costs.
Our modeling and simulation products help solve these problems by enabling shipyards to build the same ships in a virtual environment, many times over before ever starting the actual construction process. These tools provide evolutionary benefits and new insights to shipbuilders for continuous improvement.
Advances in production engineering technology
1970s: NC Programs – The introduction of numerically controlled machines added automation to greatly reduce processing times and material waste. Design was only affected at the part level.

1990s: Product Models – The use of product models streamlined engineering, planning and procurement tasks, improved build strategy and reduced rework.

Today: Production Simulation – Today ship engineering and production technology has advanced to full scale, yard-wide simulations that are now fast and accurate. The Topgallant® products make this technology practical and affordable for everyday use by regular shipbuilders. As NC programs and product modeling changed the standards of shipbuilding, similarly production simulation offers numerous benefits from concept and early design through delivery and even lifecycle management.
Currently production simulation is mainly used on an ad-hoc basis to analyze specific production areas. This is primarily because these systems typically require specialized experts to run and considerable investments in time to model shipyard facilities, processes and products.

The Topgallant® SYPS solution is different from other general simulation software in many ways:
Designed specifically for maritime industry applications
Used by planners, engineers, production, and managers
Automated modeling tasks
Practical and affordable to implement, even for small and medium-sized companies
Typical Uses Cases
Shipyard simulation can be used in many different ways to solve many different problems, ultimately to increase efficiencies while lowering costs. Topgallant® SYPS is very flexible, and can be used in many diverse areas of production. Potential areas of focus include:
Producibility & Logistics
Validate tasks sequences for manufacturing, ordering, and delivery
Evaluate material or cargo flows
Determine transportation and storage requirements
Create visualizations and animations for reporting and demonstration purposes
Capacity Analysis
Analyze facility and resource utilization
Evaluate proposed changes for facility and process improvements, build strategies, and product routings
Determine manning, transportation, and storage requirements
Identify bottlenecks and production flow characteristics
Process Optimization
Compare merits of different scenarios to find best case configuration
Increase utilization levels, level load facilities, and maintain or verify schedule adherence
Determine efficient building sequences
Foresee, manage and resolve environment and supply disruptions
Planning & Scheduling
Validate proposed schedules and changes
Determine requirements for schedule adherence
Support precise, short-term planning and long-term forecasting tasks
Indentify periods for changing resources to level load facilities
Bids & Proposals
Validate and refine work-content and resource requirements
Evaluate configuration to minimize impacts of new work on current building schedule
Compare proposed scenarios for cost-benefit analyses
Examine production aspects of design alternatives
Determine optional phase-in periods for new projects
Simulation Tool Suite
Our simulation products were designed for shipbuilders. We recognize the difficulties in applying modeling and simulation to shipbuilding, and offer several important features that make it truly unique for this use.
In order to execute shipyard production simulations successfully, at least three main domains need to be modeled accurately. These include the facilities where construction takes place as well as their supporting resources; the processes used in fabrication; and the products that are being produced. Optionally, scheduling data may to included as applicable.
After the modeling tasks are complete, the data will be fed to the simulation engine, optionally scheduling targets or constraints may be specified, simulation case parameters are set or adjusted and the resulting output is collected and displayed for analysis and report generation.
Learn more about the Topgallant® simulation tool suite applications used for shipyard production simulation:
Facility Modeler
Assembly Production
Simulation Modeler